Ava Lowrey
evelyn.lowrey@duke.edu
256.388.9306
1533 Ellis Road, Apt. B102
Durham, NC 27703
Exhibit Cycle 1
My exhibit at the Carrack would be multifaceted.
Film Screening:
The first portion would be a 30 minute film (currently in post-production) that would screen and a following filmmaker Q&A/talk. The film would screen both on opening night and have an encore screening before closing. The short documentary film is about the women that make Alabama the strange, quirky, creative place that both nurtures and hinders their own artistry. This is the story of women, mothers, Alabamians, artists.
Alabama is known as being one of the most conservative states in the south. It is also known as a hub for southern culture and art. Just by the nature of their womanhood, women artists in the state are subverting the norm and paving new ways for an emerging artistic community. In addition, many are struggling to juggle motherhood and other expectations of womanhood with their artistic careers. Director Ava Lowrey explores this community and their shared struggles and triumphs, while also taking a more critical lens to look at the sacrifices that her own mother made, essentially abandoning her own artistic aspirations. Together, Ava and Tamara share intimate conversations as Tamara steps back into the art world and Ava speaks with women who share her mother's experiences.
This story is told through a series of interviews with 2 different featured artists. In addition, the film's narrative is driven by phone conversations that the director shared with her mother, also an artist, during the making of the film, along with a final sit-down interview with her mother. Visually, we are also given access to each artist's individual space and their working methods as they create new pieces in front of the lens. Finally, we see some archival footage from the director's family, as she shares the personal aspects of this larger theme of womanhood and art in Alabama through her own family's stories.
Artwork Exhibit:
In addition to the film, there will be an exhibit featuring the artwork of the three artists featured in the film. There will also be an artist talk one night with the three featured artists. Next to each artist's section of the space, there will be one monitor playing looping video of the artists at work.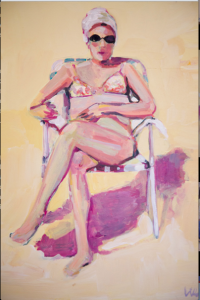 Lila Graves –
Lila's childhood was darkened by a traumatic, violent experience after which creating became an escape from her bad memories. Then when Lila was twenty-six, she was diagnosed with terminal cancer- melanoma. After surgery, she was given a brief life expectancy. With little time left, Lila embarked on a spiritual and physical journey. A wandering to San Miguel, Mexico that resulted in visitors seeing a young woman painting on the streets, while wearing a set of angel's wings worn like a backpack.
Lila's logic was that if she was supposed to die and become an angel in Heaven, then perhaps Lila-as-angel could live here on earth for a while longer. She treated each work of art as if it were her last. So one day, in San Miguel, Lila woke up. The next day she woke up again and then kept on waking up, not dying, for days after, that turned into weeks. In a supreme moment of self-awareness, Lila knew that she had painted herself well.
She returned home to friends, family and doctors in disbelief of her healthy condition. Lila says, "My whimsical style is an untrained voice, because of my self-healing. I had to go back to that child to discover who I was. That's how this artwork was born. I know which voice I need to talk in to take care of myself, and sometimes my child voice is the one that heals the unhealthy imprinting of my past."
Littia Thompson –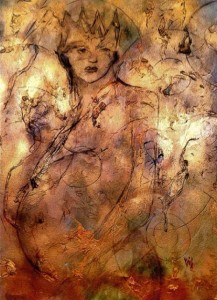 Littia paintings present combinations of bright multicolored faces, figures, shapes, lines, angles; each meticulously placed in the composition. Her controlled brush strokes, loaded with just the right amount of pigment, transfer Littia's images onto the open canvas that willingly absorbs all her creativity. She places almond shaped female eyes carefully within reshaped female faces. Bright, bright whites of eyes accent their variation in color, hue and intensity. Pursed blood-red lips are prominent in many of her paintings. The bow of the upper lip may be an expression of her own lips formed with the same distinctive Cupid's Bow. Faces suggest they are acting the role of another. The mysterious connection is to Littia, brought to the canvas, through her translation from reality to expressionism.
Paintings contain a cacophony of objects: a cigarette, hanging key, bottle of Moët, scissors, birds, floating wine glass, misplaced eyes, triangles, arrows, clock, piano. The flow pattern of this amalgam never leaves the canvas
Littia's paintings convey the depth of the feminine mystique: connecting eyes, female forms leaning, artistically dressed, some nude, some with concentrically suggested breasts, arms expressively reaching and arched, hands and fingers adding more to direction in composition. Images in subliminal layers add another dimension of interest. Littia works from a thoughtfully selected multicolored palette exclusive to each painting. The result is a cohesive strength of color harmony, and intended disharmony. Her work flows from her mind's images through her pigment spattered hands, continually painting without stopping, never backtracking. Many of Littia's paintings present a masculine trait of strength emanating from the female image, while still retaining the female mystique.
"My art is about the masculine and feminine coming together in the human body. I paint the process. Life is the art of drawing without an eraser." Finally, the newly infused canvas is birthed.
Live Painting and Piano Performance:
In addition to the screening and art exhibit, one of the featured artists, Littia Thompson, will be creating a painting in real time in front of attendees while pianist and one of the subjects of the documentary, Tamara Knowles, will be creating a piano piece in real time. Together Littia and Tamara will feed off of each other and use each other for inspiration while crafting their complimenting pieces.
The Logistics:
We are about to launch our crowdfunding campaign which will help pay for the cost of each artist to attend the exhibit opening and participate in an artist talk. All three artists have already agreed to be part of the exhibit and we are in the process of selecting which of their pieces will be included. As of right now we are planning to show 3-4 pieces for each artist.
We will be heavily promoting the event with the help of the MFAEDA program at Duke University and by reaching out to artist groups in the triangle area, particularly those with a large presence of women artists.
By hosting multiple events in the space during our exhibition dates, we plan to draw a larger audience by allowing for various opportunities to see the exhibit and film and engage with the various artists involved.
Microcinema Night:
I also want to have a microcinema night where I ask women filmmakers from the triangle area to submit films for screening. I want this to be an example of the amazing talent that exists in the triangle area from women artists and filmmakers. This will be through an open call, reaching out to both other Duke and UNC MFA candidates along with artist groups in the triangle area.
The Impact:
I'm very passionate about this project. As a young woman artist, I am inspired by the women who have shaped the way for me, particularly those in my home state and those who have not received the attention they much deserve. With this film and exhibit, I want to create a space to foster conversations about these artists and both the successes and struggles women have faced in the southern artistic community. While this project is specific to my home state, Alabama, my hope is that the conversation will inspire those within the triangle community to continue this conversation. I also wish for the microcinema night to highlight the talent of women artists specifically in the triangle area – helping expand the project beyond Alabama and ground it in North Carolina.
More Art Work Examples:
Below are some examples of the art work from the three featured artists.

Film Examples:
The documentary film, working title Painting with Mother, is currently in post-production with an anticipated editing completion date in late January/early February. On this website you can find examples of my past film work, which is similar in style and aesthetic.
The Fit:
The Carrack is an exciting space that will allow us to host multiple events and host this exhibition in a way that best displays the artists' works along with the film and other exhibition screenings/events. The space is perfectly suited to our needs and is an exciting opportunity for the artists to share their work in a true gallery space outside of Alabama. In addition, the Carrack is located in an area where we can best access audiences and crowds through the downtown area who might not otherwise be able to see the exhibit in other spaces. Finally, the Carrack's goal of empowering local artists and hosting work that creates dialogue with the local community is incredibly exciting given the nature of this project and exhibit. The conversation that will happen as a result of this work would benefit from a space that is so encouraging and of art as a means of growth and community engagement.
Thank you for your consideration,